Why More Sustainable Meetings Begin with the Destination
13 June 2023
What does travel sustainability mean?
Travel sustainability refers to a conscientious approach to travel that aims to minimize its negative impact on the environment, local communities, and cultures while maximizing the benefits for both travelers and the places they visit. It involves making responsible choices during all stages of travel, from planning and transportation to accommodation and activities.
At its core, travel sustainability entails reducing carbon emissions and waste, supporting local economies and businesses, respecting and preserving cultural heritage, and fostering positive social interactions. By incorporating eco-friendly practices and ethical considerations into travel decisions, individuals and companies can contribute to a more sustainable and responsible industry.
What is sustainable business travel?
Sustainable business travel, or responsible corporate travel, involves adopting environmentally and socially conscious practices during work-related journeys. It goes beyond conventional travel arrangements and focuses on reducing the ecological footprint of corporate activities while promoting positive impacts on local communities.
The essence of sustainable business travel lies in selecting eco-friendly transportation options, staying in environmentally responsible accommodations, and supporting local businesses at the destination.
By incorporating sustainability principles into their travel policies, businesses can not only mitigate their environmental impact but also enhance their reputation as socially responsible entities. Sustainable business travel aligns financial goals with ethical considerations, fostering a more sustainable and honest approach to conducting corporate affairs on a global scale.
Why more sustainable meetings begin with the destination
Sustainability is more than just a buzzword. Over one-third of the world's largest publicly traded companies have established net zero targets with a deadline of 2050 or sooner. Half of corporate travel professionals say their company has placed a higher priority on travel sustainability post-pandemic.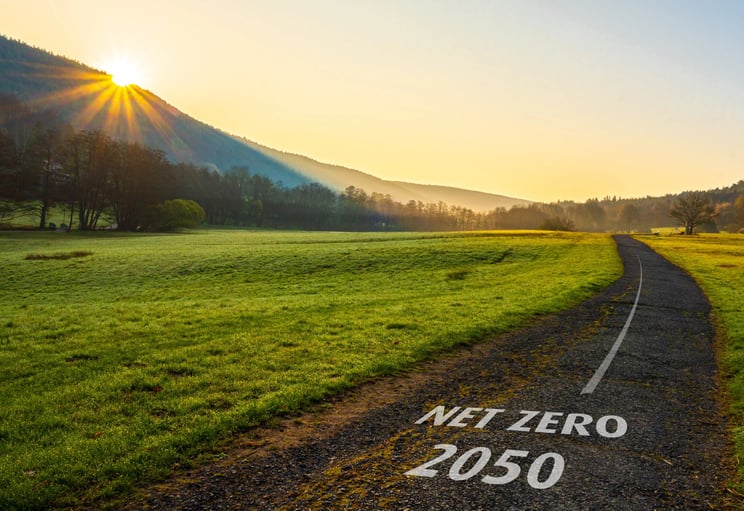 Despite corporate initiatives to curb carbon emissions, meeting planners don't always have access to needed tools to achieve those goals.
Existing guidance on achieving green meetings tends to prioritize on-site optimization–activities such as reducing food waste, going paperless, or sourcing a sustainability-credentialed venue. While these initiatives help, they overlook a bigger, more impactful opportunity.
Start with Sustainability in Mind
The opportunity with the most impact is destination selection, meaning choosing a destination not just because of a venue or experience, or nearby office, but based on the carbon emissions required to travel there.
Selecting destinations by carbon impact carries far more weight in the sustainability conversation than you might think. In this article, we'll explore how sustainable meetings and destination selection go hand in hand, and why you should plan green meetings starting with the end in mind.
Travel's Contribution to Event Emissions
Typical guidelines for planning sustainable meetings focus today on factors within the walls of the meeting, like food and conference materials.
In reality, accommodations, catering and energy consumption only contribute to 30% of total emissions sources at events. On the other hand, travel to and from meetings are responsible for 70% of total event emissions.
Destination selection is critical for meeting planners who are serious about reducing carbon emissions.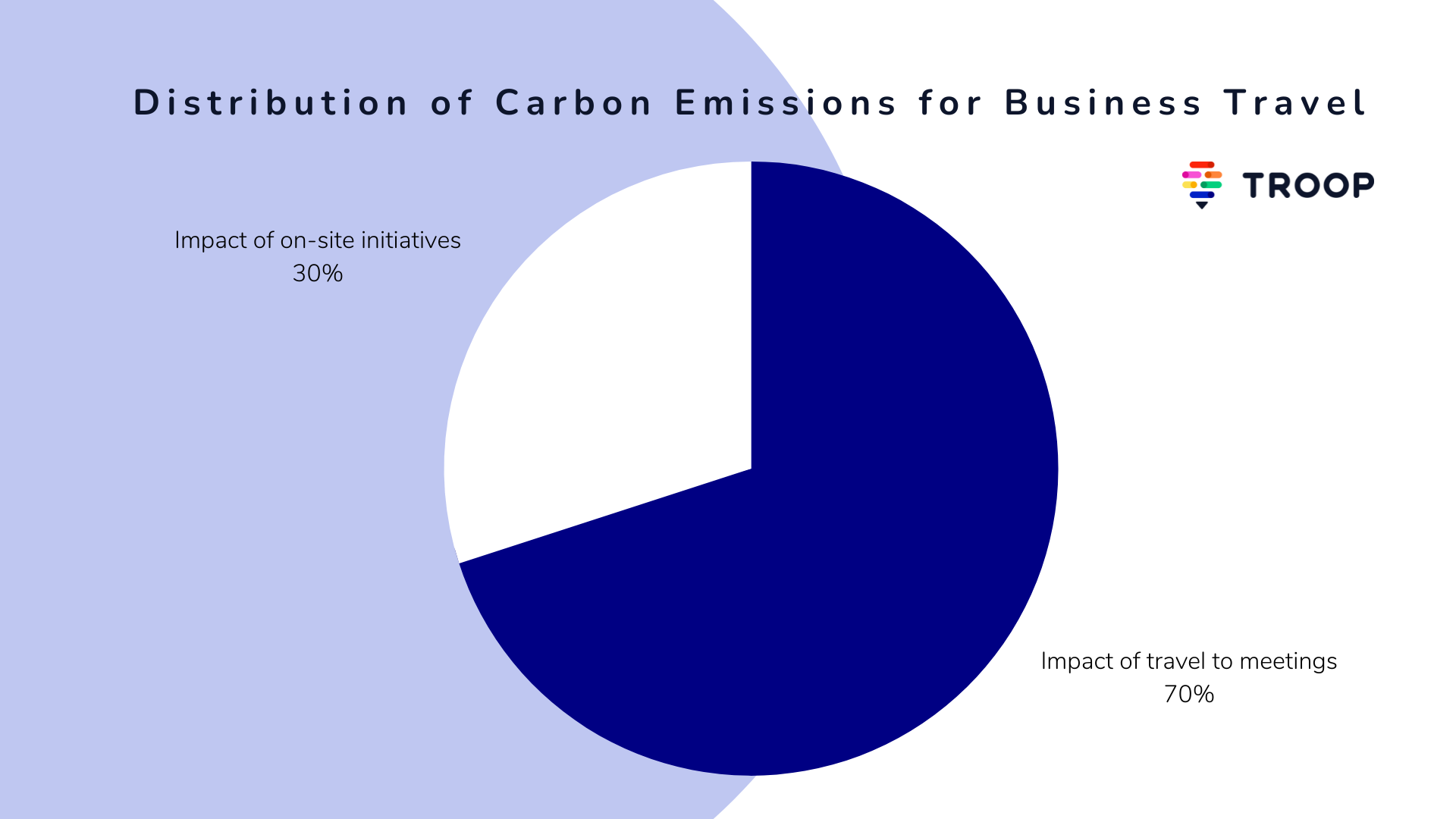 Case study:
A Fortune 500 company regularly hosts its annual procurement meeting of 200 employees worldwide at its Seattle headquarters.
The company wanted to reduce the total amount of CO2 emissions from the meeting. In minutes, TROOP analyzed what they could save if they replaced the annual meeting with a series of four regional hybrid meetings.
Sure enough, the change led to a staggering 78% cut in carbon emissions, something that wouldn't have been possible with just on-site fixes.
It all goes back to the data
Thinking sustainably also means thinking strategically, and that's where data-based insights come into play.
With the rise in remote and hybrid work, teams are spread out now more than ever. This makes it more difficult to decipher the most sustainable meeting location since employees are being brought together from all corners of the world.
Instead of just assuming that a company headquarters would reduce travel and its carbon impact, it's important to look at the numbers. What may seem like the most sustainable destination at first glance could actually be costing your company, and the environment.
Measuring and reporting your company's carbon footprint allows you to visualize trends over time, optimize business travel plans, and make critical decisions that will actually get you closer to your carbon emissions goals. Only around half of the business travel industry reported measuring the environmental impact of their travel activities, meaning many companies are still relying on guessing, rather than numbers, to inform their business travel and meetings decisions.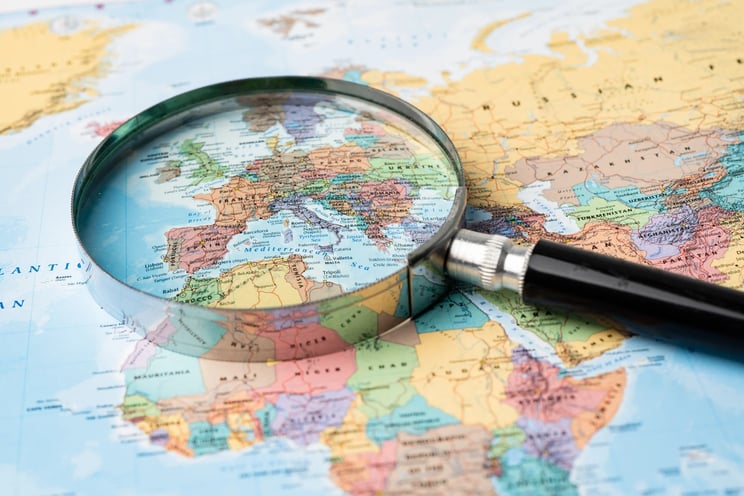 TROOP Helps Companies Reduce Travel-Related CO2 Emissions
With sustainability being a priority for 89% of the business travel industry, companies need to start rethinking how they plan green meetings. Only considering sustainable changes to on-site factors means companies cannot truly achieve their emissions goals. The best way to plan green meetings is to begin with the destination.
Not sure how to start? TROOP makes it easy to reduce the carbon footprint of meetings from the initial planning phase, providing planners with instant access to data that details the total impact of an in-person meeting. With TROOP, you'll feel confident that you've chosen the most sustainable meeting location.