TROOP wins the 2022 BTN Innovate Award
15 November 2022
TROOP has been announced as the winner
TROOP has been announced as the winner of the 2022 Business Travel Innovation Faceoff at the Business Travel Show in New York.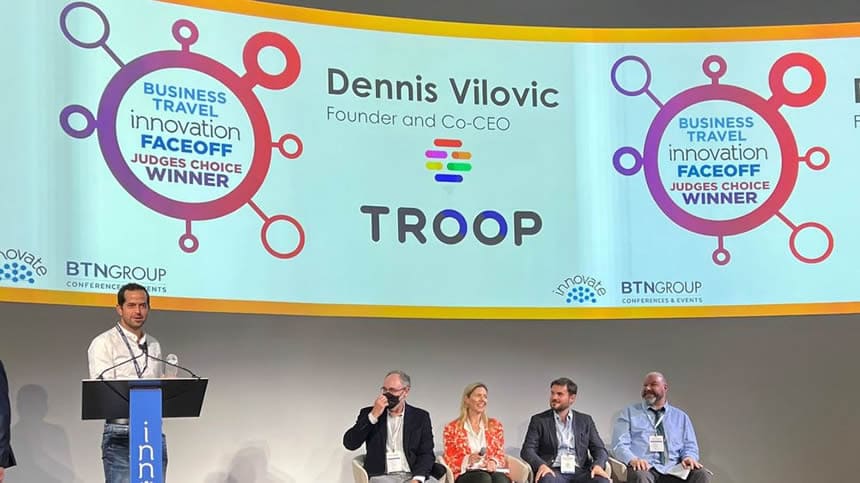 TROOP landed the award following a twelve-way battle against other technology and service providers, who all presented their business travel inventions at the event.
Dennis Vilovic, our Co-Founder and CEO, explored in his presentation what the future of hybrid work looks like, and how businesses can respond to these latest developments.
The future of work
The COVID-19 pandemic forced us to adjust quickly to the idea of remote working, and quite successfully. According to Microsoft, 65% of American workers prefer a hybrid work model resulting in a 5% increase in productivity. Consequently, leaders are faced with employees who do not necessarily want to come back to the office and new talent hires who expect more flexibility and certain working conditions.
Today, CEOs are asking themselves how they can maintain the company culture and continue to help build connections.
Sustainability directors are wondering how they can achieve their sustainability goals while continuing to support people to connect.
Office managers are thinking of how to maximize the usage of office space when there are always more and more people working from home.
Essentially, hybrid working has changed the way we bring people together and adapting to the future of work is one of the most critical challenges businesses are facing today. As winners of the technology innovation award, we believe that meetings management plays a leading role in solving it.
TROOP is building the operating system for people coming together in today's world. We are helping digitize the meeting planning process by providing planners with instant access to data that enables more cost-effective and environmentally friendly meetings. Our customers are using TROOP to make faster and better decisions about their next meetings or events, whilst gaining visibility of meeting planning across the entire organization. Simply select where your team members are traveling from and the destinations you have in mind and let our tool do the analyzing!
About TROOP
TROOP is the only platform on the market that makes organizing in-person meetings easy for anyone mitigating risks, saving costs, and reducing carbon footprint. TROOP is a platform that benefits everyone in any sized organization that is involved in arranging meetings, both big and small by removing all the manual work that currently takes place to pull together pricing and availability and then supercharges it with sustainability & safety data, and much more.
TROOP has been well received and has been awarded multiple industry awards including the BTN Innovate Award, the Skift IDEA Award, the Phocuswright Innovation Award and the Disrupt Award from the Business Travel Show. For more information, please visit TROOP.
BTN Innovate 2022
The Business Travel Innovation Faceoff featured presentations of cutting-edge products, technologies and services developed by suppliers to address industry challenges and support managed business travel and/or business travelers.
Each presenter had seven minutes of uninterrupted speaking time followed by four minutes of questions from a panel of expert judges and two minutes of audience Q&A.
The other contenders included Amadeus, Hilton, BTP Automation, Coupa, Gant, HRS, Jyrney, 3Sixty, Simard, TRIPBAM and Unlocked Data.
The judges for this year's Business Travel Innovation Faceoff were:
Steve Clagg, Travel Technology Manager, Microsoft
Jack Dow, CEO & Founder, Grapevine
Norm Rose, President , Travel Tech Consulting
Jill Zunshine, Senior Vice President, Takeda